Reach a Larger Customer Base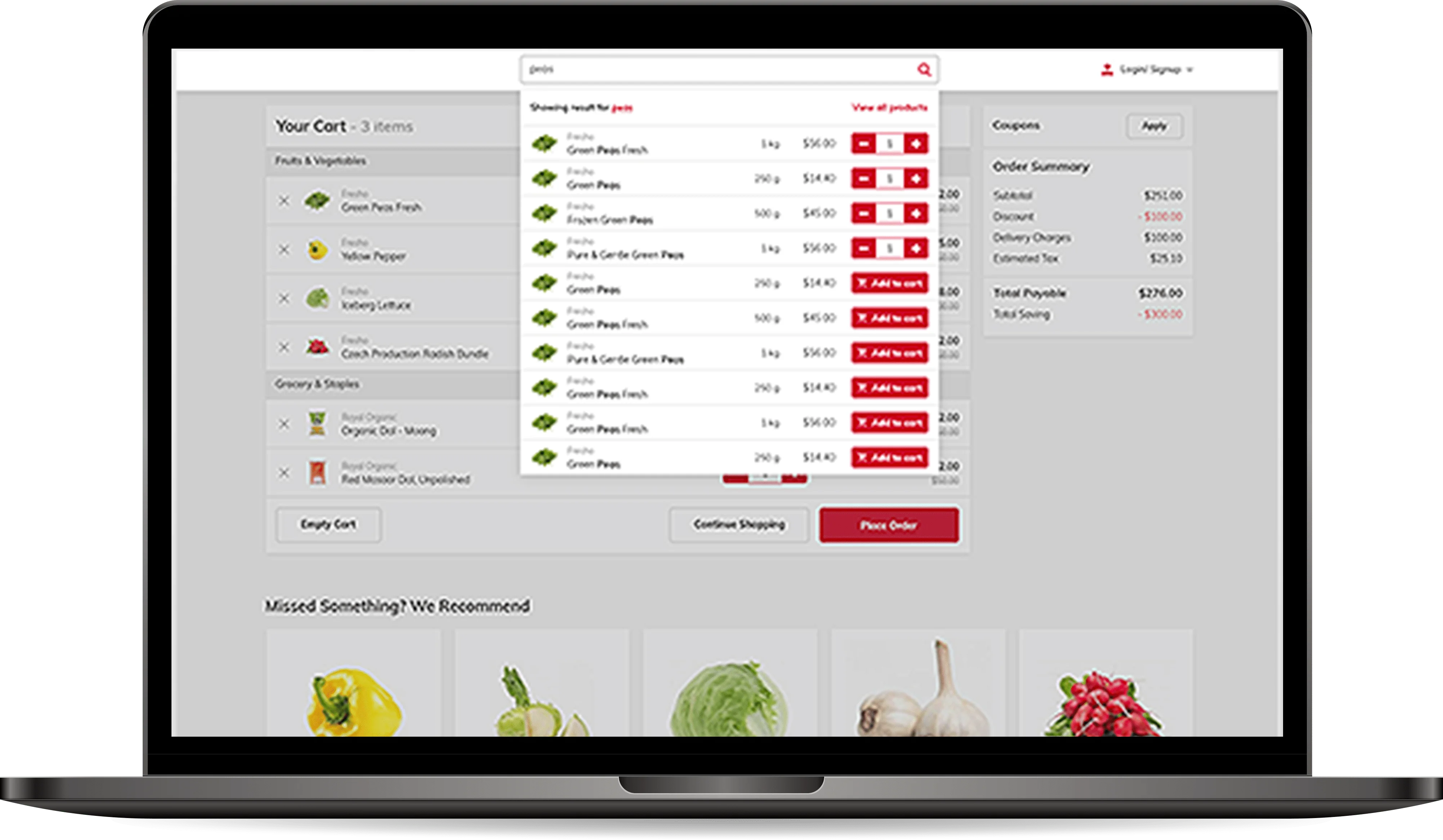 Multi-Lingual Smart Search

Our grocery store e-Commerce software facilitates quick search features in regional languages and the phrases will auto-complete on their own based on the given search phrase.

Stock Availability & Real-Time Notifications

Our omnichannel grocery ecommerce software automatically performs stock availability checks. Shoppers will get notified of updates regarding order status, discounts, & items in stock
Increase Sale & Brand Awareness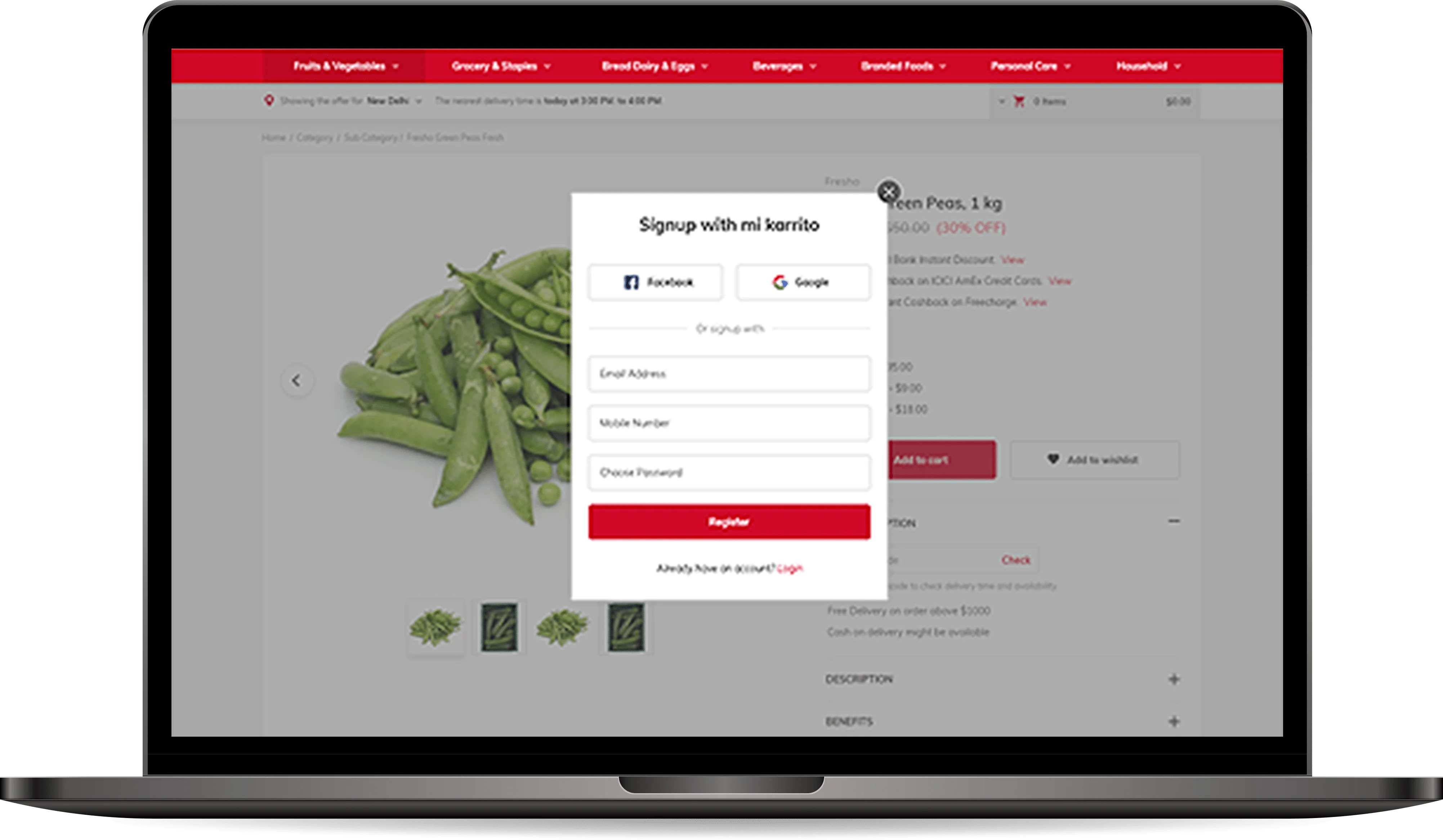 Run Banners and Promotions

Our grocery eCommerce website helps you highlight offers and promotions through banners on the homepage that can be scheduled as per convenience from the management console.

Discount Coupons & Promotions

Our grocery eCommerce website helps you promote your product-based & discount-based promotions that encourage shoppers to buy more from your online grocery store.

Referral System

Our online grocery store software can help increase your sales by rewarding the shoppers when they refer their friends to your online retail store.
Improve Customer Experience & Conversion Rate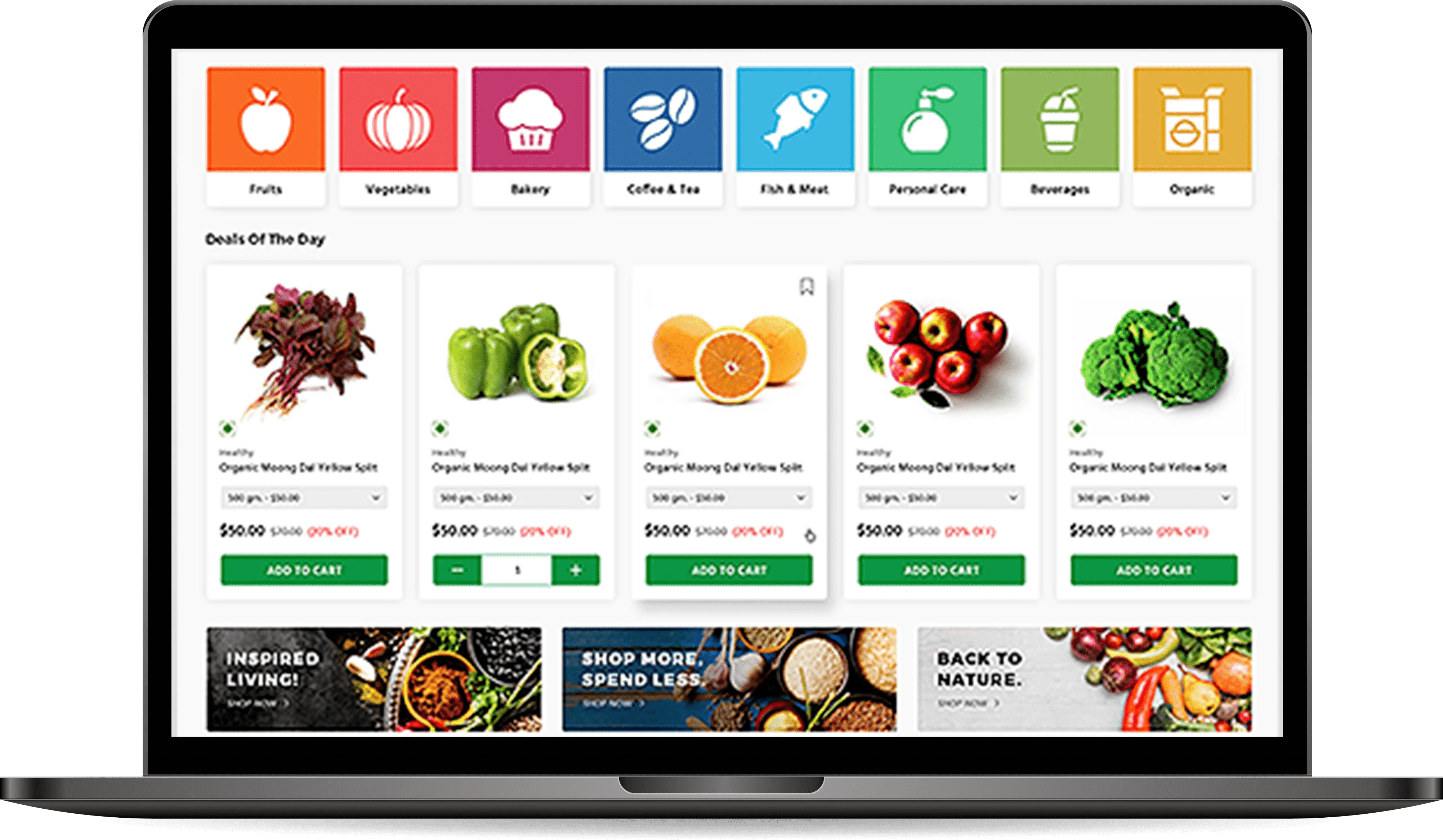 Single Page Checkout

With our online grocery store e-Commerce software, provide a delivery address, delivery option, review the order and make an online payment option – all from one page.

Schedule Monthly Cart

With our grocery ecommerce software, create listings for daily used items, and schedule monthly subscriptions on specific date & time.

15+ Payment Processing Options

With our grocery eCommerce website solution, shoppers will find 15+ online payment options along with Cash on Delivery and Pickup.
Increase Customer Engagement & Drive Traffic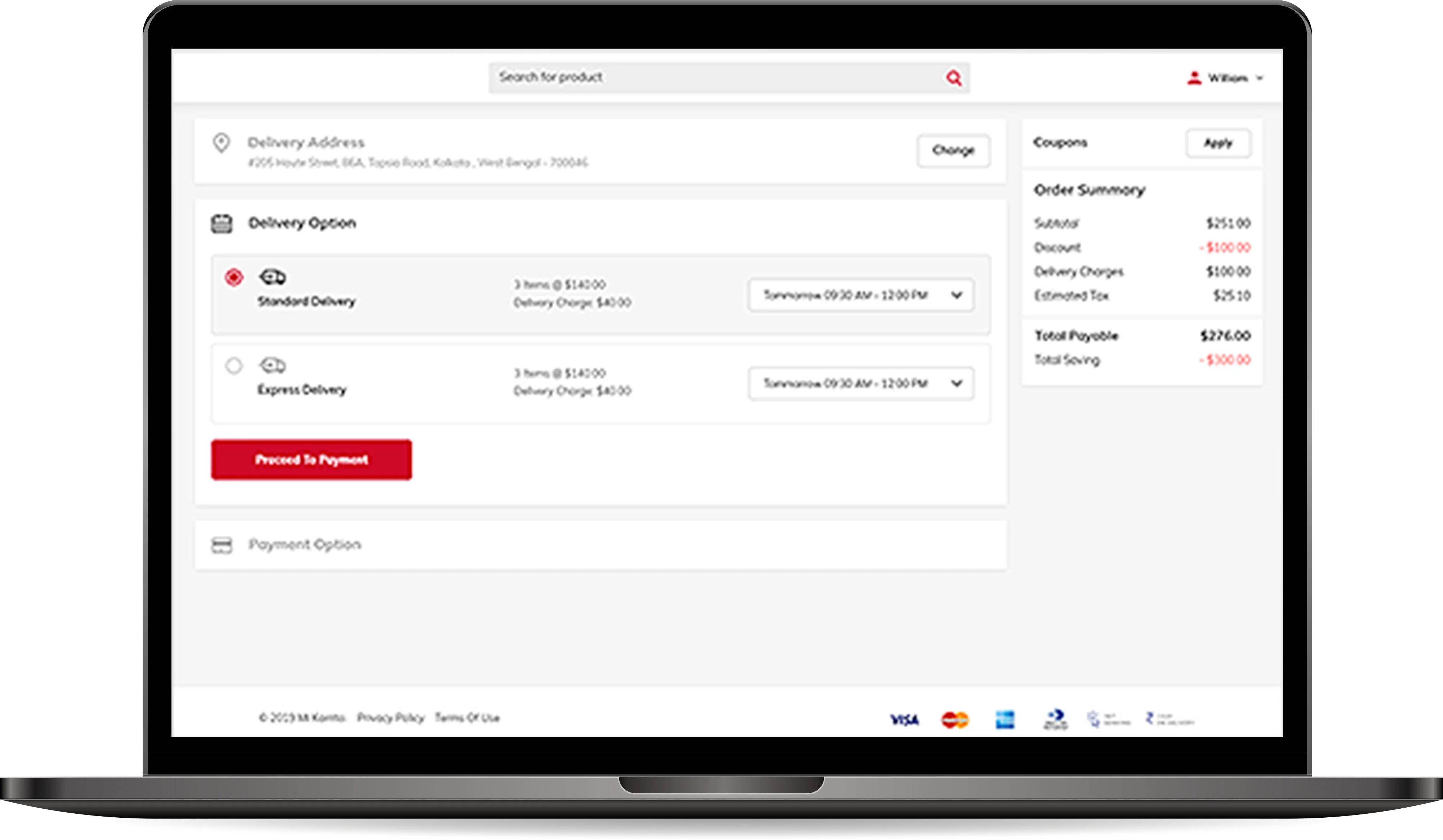 Social Media Login & Account Setup

Etailgrocer's online grocery software allows for login & account setup from mobile devices. Shoppers can also use their social media accounts like Facebook, Google Plus, and others to log in.

Review & Rating System

Our grocery eCommerce website displays product reviews & ratings and allows shoppers to comment on their purchase, which in turn has a major impact on your online sales.

Mobile Responsive/Native Apps

Our online grocery software offers full support for mobile devices. Launch mobile & tablet optimized stores which can be easily accessible to the shoppers even when they are on the go.
Build Trust & Track Performance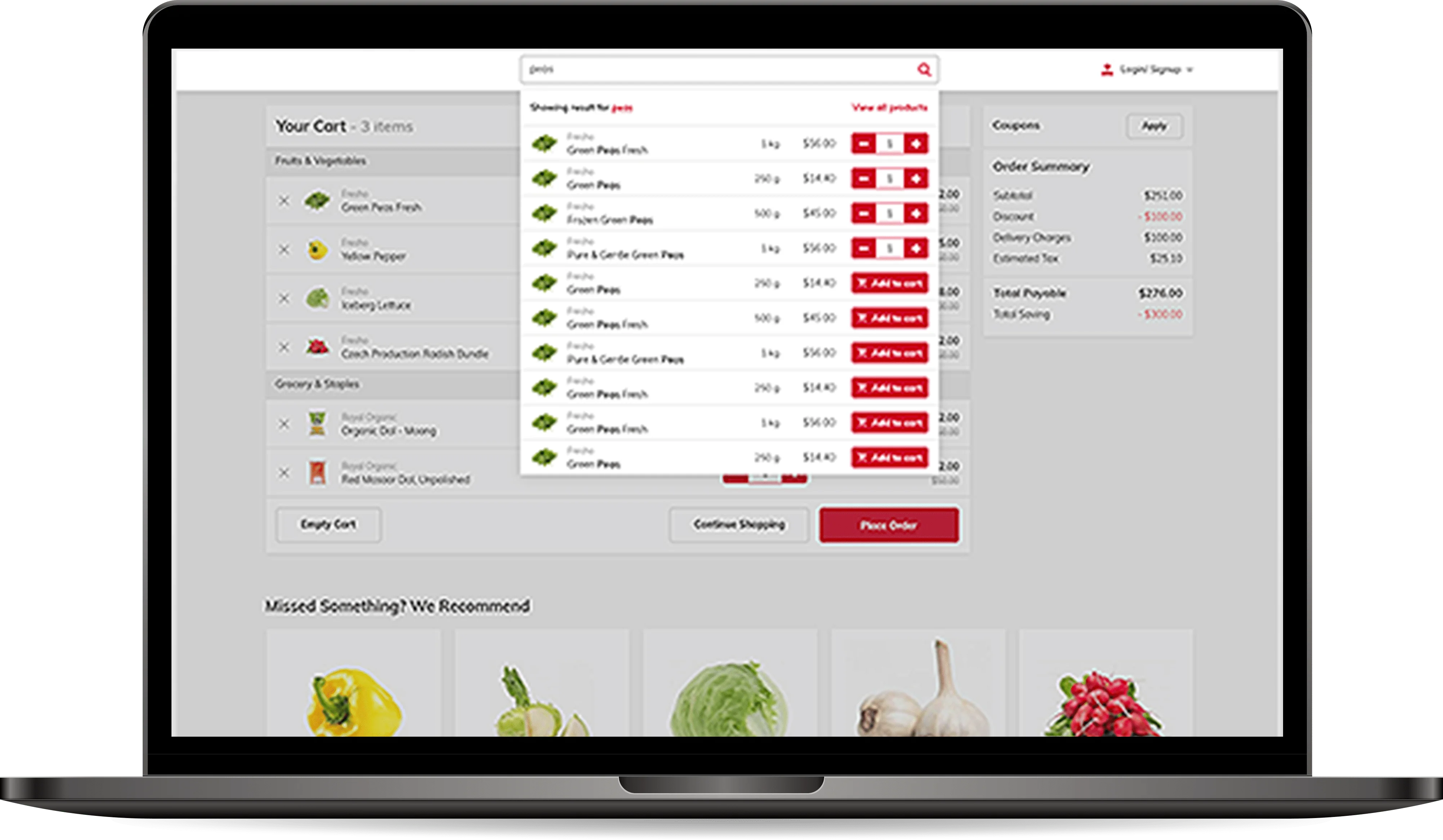 Schedule a Convenient Delivery Time

Customers can choose convenient delivery slots as per their convenience while placing orders from our grocery store eCommerce website.

Real-Time Tracking of Orders

Our grocery eCommerce store software helps customers track their orders on a real-time basis, making it convenient for them to receive them & minimizing the possibility of a missed delivery.

Return & Replacement

Our grocery eCommerce website allows easy return and replacement. Shoppers can initiate the return & replacement process from their online store account and get a refund.