Smooth Product & Order Management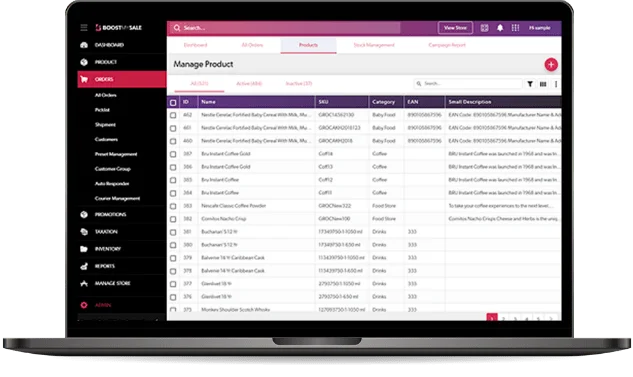 Bulk Products Upload

Etailgrocer's grocery inventory management software helps upload a bulk amount of product information using the Excel import process and move product images in the CDN.

Order Processing

Use Etailgrocer's supermarket inventory software for seamless order management from different channels, create shipment by picklist, generating invoices, shipping labels, and manifests.

Product List & Dynamic Category Management

Manage your inventory with our grocery store inventory management software. Categorize products to maintain hierarchy, discovery, on-site search, and navigation.

Manage Purchase Order

Use our supermarket inventory software to manage your supermarket stock by generating purchase orders and monitoring the real-time status of receivable items, with a few clicks.

Manage Supplier List

Etailgrocer's retail management system helps you to connect with suppliers, raise purchase orders, and keep track of the receivable items.
Seamless Hardware & Software Integration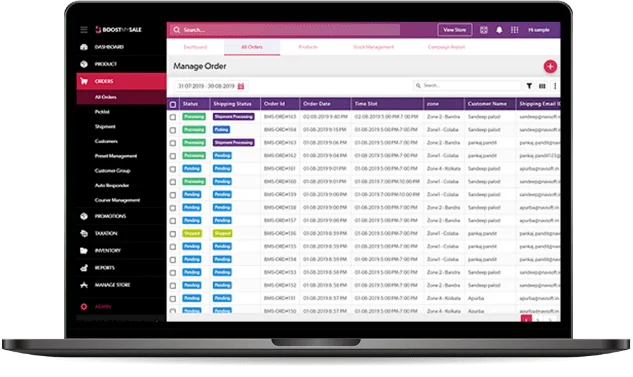 GRN and Scanner

Our grocery store retail management system counts inventory effectively and makes GRN (Goods Received Note) entry with barcode scanning using a scanner device.

Barcode Generation (per SKU)

Barcoding your inventory will make grocery store management easier and quicker. Generate barcodes for your SKUs to identify, locate, and streamline the operation of your products.

Integration with Tally & QuickBooks

Our grocery inventory management software offers seamless integration with external accounting software like Tally, QuickBooks for real-time syncing of the orders, stocks, and user data.
GPS Tracking and Route Optimization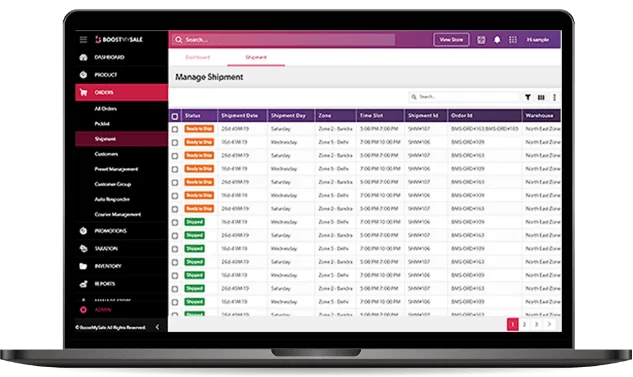 Dynamic Delivery Creation

Our grocery inventory management software solution helps cut the shipping cost with a dynamic delivery creation. Route the orders based on customized rules & create an optimal fulfillment workflow.

Real-Time Route Optimization

Etailgrocer's supermarket inventory software automatically generates the delivery route in the most optimized manner by considering the delivery location distance from the warehouse.

Drivers & Vehicles Management

TUse Etailgrocer's management console to manage drivers and assign vehicles for delivering the orders right to the customer's door.

Delivery person Tracker/Real-Time Order & Field Tracking Management

Use Etailgrocer's management console for real-time GPS tracking and know the exact location of delivery persons while they are in transit.
Boost Sales with Customer Analytics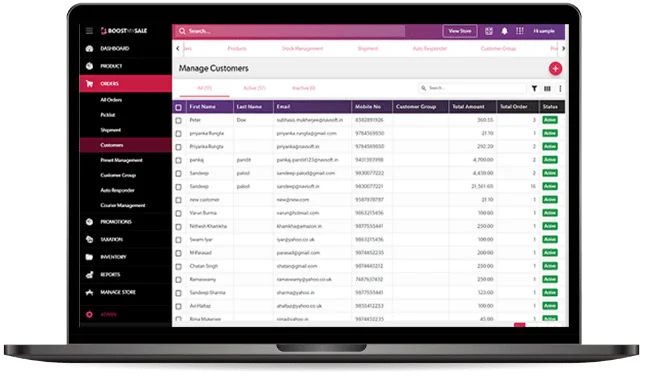 Promotions and Offers Management

Use Etailgrocer's supermarket inventory software to strategically design the coupon & promotions, and use them when new products are launched.

Manifest Generation

Generate shipping manifest at the time of order shipment process and hand over it to the courier company.

MIS Reports & Analytics

Our retail management system allows you to create MIS reports that you can analyze and know what your customers are searching for & offer them the products at the price they want.

Multiple Payment Gateway Integration

Our scalable platform is integrated with all trusted and leading payment gateways like PayPal, CC Avenue, Atom, etc.
All-in-One Inventory Management Solution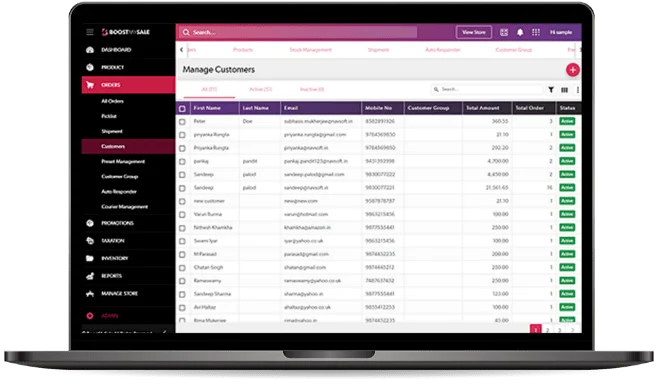 Assign Managers

The allocation of managers is vital for inventory management. With our grocery inventory management software, control manager allocation to ensure efficient streamlining of workflow and smooth store operation.

Users Role Management

Multi-level administration by creating user groups, and assign them roles, privileges, and access to manage specific activities. Etailgrocer helps manage users' roles to ensure smooth operation.

Customer Management

Etailgrocer's management console keeps a track of all your registered customers easily. Get an insight into their purchase history, buying patterns, and decisions.

Manage Multiple Range of Stores

Our robust grocery store inventory management software is specifically designed for all grocery businesses whether big or small, equipped with enterprise-grade features.